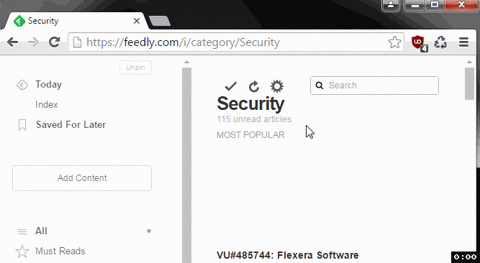 [Source by: uxmag.com/articles/feedly-s]
Not to long ago in our Informatica 103 class they gave us the Feedly class. About how to follow all you're favorite music, books, news or anything in one website in one page. It only takes one page to work everything.
This is my Feedly:
[Source: By DMassa Productions. All rights reserved]
MetalSucks: Its page where they upload news about metal music.
IGN: One of the tops news about video games
Metal Torrents Tracker: A place where you can download music.
Yify: Download Movies
Canon Rummors: Mostly rummors about Canon
Hacker News: Everything happenning with hacker infomation
Life Hack: Everything with life hacks.
Primera Hora: Local News Paper of Puerto Rico
El Nuevo Dia: Local News Paper of Puerto Rico
BBC News: Famous  News
Featured Image: [Source by Tecnomovida Caracas, Titled: feedly Licensed CC]